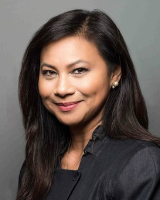 Aurora Austriaco
Firm: Valentine Austriaco & Bueschel, P.C.
Location: Chicago - IL
105 West Adams Street, 35th Floor




Chicago, IL 60603




USA
Tel : (312) 238-9061

Fax : (312) 638-8137

Email : aaustriaco@vablawfirm.com

Aurora concentrates her practice in the areas of commercial and real estate litigation, construction litigation, mechanic's liens, defense of mortgage foreclosure, mortgage fraud – plaintiff, title insurance claims litigation, and other special chancery remedy cases. Her clients range from multinational corporations, title insurance companies, credit unions, hotels and restaurant owners, developers, small and startup companies and   as well as individuals.  Aurora is currently serving as Commissioner for the Illinois Courts Commission and as President of the Lawyer's Trust Fund of Illinois. .She served 9 years as Commissioner for the Park Ridge Planning and Zoning Commission, and has served 11 years as Commissioner for the Cook County Human Rights Commission.  She is past president of the Chicago Bar Association, and was named a Super Lawyer-Real Estate, one of the Top 10 Women Consumer Attorneys by Leading Lawyers, and one of the Top 10 Women Lawyers in Real Estate.  Aurora is also fluent in Tagalog.
Representative Engagements
Lead Counsel on a senior fraud financial exploitation case and obtained a multimillion dollar judgment against various defendants and in favor of the elderly clients.
Lead Counsel on a mortgage fraud scam wherein the client was defrauded by her ex-husband who took out several millions of dollars in fraudulent mortgages under her name without her knowledge against the marital property.  The lender foreclosed against the wife based on the fraudulent mortgages and we prevailed on  a summary judgment in favor of the wife and against the defrauding ex-husband.
Lead counsel on a title insurance claims litigation involving a mortgage scam.  Our firm obtained hundreds of thousands in judgment against the fraudulent parties and in favor of the title insurance company.
Represented various developers in the purchase and conversion of several buildings to condominium units.
Represented various business owners on the purchase and sale of restaurants, hotels, apartment buildings and commercial buildings.
Lead counsel in various title insurance claims litigations.
Lead counsel in a mechanic's lien litigation involving a fraudulently released claim for lien wherein the general contractor's lien was fraudulently signed and released by the owner.  We successfully recovered over $300,000.00  in favor of the general contractor claimant.
Awards
CBA Alliance for Women, "Alta Mae Hulett" Award, 2006
Cook County State's Attorney, "Distinguished Service" Award, 2008
Philippine Chamber of Commerce, "Ten Most Outstanding Filipino American Businessmen," 2009
Diversity MBA Magazine, "Top 100 under 50 Diverse Executive Leaders," 2011
Today's Chicago Woman, "100 Women of Influence," 2013
Award by Institute of Women Today, "Sister Margaret Traxler," 2013
Asian American Coalition of Chicago, "Ping Tom" Award, 2015
Filipina Women's Network, "2015 Global FWN 100 Women," 2015
Chicago Filipino American Hall of Fame "Excellence in Public Service," 2015
Named "Super Lawyer in Real Estate," 2012-present
Recognized as a "Leading Lawyer" in the areas of Real Estate Law and Consumer Law, 2009-present
Recognized "Top 100 Women Consumer Law" Attorneys by Leading Lawyers, 2013-19
Named Illinois "Super Lawyer" in general litigation, 2015-2016
Premier Real Estate Lawyers " Exclusive Featured Attorney for Chicago" 2020
 Chicago United, 2019 Business Leaders of Color awardee
---
Valentine Austriaco & Bueschel, P.C.
Valentine Austriaco & Bueschel, P.C. is an all women owned law firm representing clients in a wide range of matters where the law touches business. We have decades of experience in commercial litigation, internal investigations, employment matters, and real estate – to name just a few of our areas of experience.
We also regularly represent aviation interests in a variety of litigation matters.
We represent residential and commercial owners and developers in the sale and purchase of residential and commercial properties, including condominium buildings, hotels, restaurants, office buildings, shopping centers, and other properties. We have also handled various real estate-related litigation matters, including landlord-tenant disputes, title insurance litigation, zoning and ordinance issues, construction litigation, and mortgage fraud. Our decades of experience working in the real estate industry – both in the transaction matters and in litigation – provides us with a unique perspective that benefits our clients.