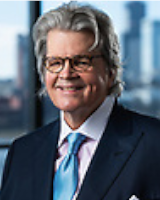 Ernest H. Harper, Jr.
Firm: HILBURN & HARPER, LTD.
Location: North Little Rock - AR
ONE RIVERFRONT PLACE EIGHTH FLOOR




US BANK BUILDING




NORTH LITTLE ROCK, ARKANSAS 72114
Tel : (501) 372-0110

Fax : (501) 372-2029

Email : eharper@hilburnlawfirm.com

Ernest advises clients on a number of issues dealing with real property and real estate transactions. He has extensive experience in assisting its clients in matters including, negotiating land purchase or sale agreements, commercial real estate financing and litigating property related cases such as boundary disputes, breaches of real estate contracts, and foreclosure proceedings.
Rated AV Preeminent® by Martindale-Hubbell
PRACTICE AREAS
Real Estate
Commercial Lending
Commercial
Transactional
ADMITTED
1977
LAW SCHOOL
Southern Methodist University (J.D., 1977)
COLLEGE
University of Arkansas and Hendrix College (B.A., 1974)
MEMBERSHIPS
Pulaski County, Arkansas and American Bar Associations; Fellow, American College of Mortgage Attorneys, Inc.; Super Lawyers of the Mid-south (Real Estate).
---
HILBURN & HARPER, LTD.
Hilburn & Harper, Ltd. was created in 1988 through the merger of a North Little Rock firm and a Little Rock firm. One of the merging firms, Hilburn & Harper, Ltd., was formed in 1973 by two young lawyers with an office in downtown North Little Rock and by 1980 had grown to the fifth largest law firm in Arkansas. The other merging firm, Owens, McHaney & Calhoun, was formed in the 1890's in Little Rock by three leading members of the Arkansas bar. The Firm is listed in the Bar Register of Preeminent Lawyers.
The Firm currently has a staff of eighteen (18) attorneys. In addition, the Firm maintains law clerks as part of its staff. The Firm offers a full range of services and specialties, with the greatest concentration in the areas of commercial and general litigation, labor relations and employment, insurance defense, family law, real estate, securities, bonds, taxation, bankruptcy, corporate transactions, environmental, administrative, ERISA, estate planning, mergers and acquisitions and banking. The firm's demonstrated abilities in these various areas of practice has attracted a broad, diversified and impressive client base.
Among the Firm's many clients are:
Bank of the Ozarks; Beach Abstract & Guaranty Co.; C.B.M. Construction Co., Inc.; Centennial Bank; Chicago Title Insurance Company; Darragh Company; Deere & Company; Dixie Restaurants, Inc.; Erwin-Keith Seed Company, Inc.; Essick Air Products; Fidelity National Title Insurance Company; IBM Corporation; John Deere Construction & Forestry Company; John Deere Financial, f.s.b.; KBX, Inc.; Kimberly-Clark Corporation; The Kroger Co.; Lawyers Title Insurance Company; Lexicon, Inc.; Navistar Financial Corporation; Navistar International Transportation Corporation; North Little Rock Housing Authority; North Little Rock Waste Water Utility; Paccar Financial Corp.; Rineco Chemical Industries, Inc.; Russell Chevrolet Co.; Southern Bancorp Bank; Sprint Communications Company; US Bank National Association; Vanliner Insurance Company; Wells Fargo Bank, N.A.
To encourage mutual support and interaction, the Firm is not physically departmentalized; rather, each attorney contributes to the overall effort to provide complete and comprehensive service to its clients.