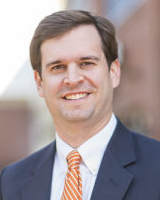 L. Penn Clarke
Firm: Longleaf Law Partners
Location: Raleigh - NC
4509 Creedmoor Road Suite 302




Raleigh, NC 27612




USA
Tel : 919-645-4300

Fax : N/A

Email : pclarke@longleaflp.com

On a nationwide basis, Penn advises clients in all aspects of complex, commercial real estate transactions.  He has a particular focus on multi-family (both traditional and student-housing) transactions having successfully represented clients in the development, purchase and sale of dozens of multi-family properties totaling more than $2.5 billion in value.  Penn also has substantial experience advising build-to-rent (BTR) and single-family-rental (SFR) housing sponsors and investors in the acquisition and development of residential subdivisions and routinely assists clients in the acquisition, financing, development and sale of mixed-use, industrial, retail, and office projects.  He regularly prepares and negotiates joint venture agreements, development agreements, and management agreements and often oversees multi-state portfolio acquisitions and sales and the associated due diligence and logistics coordination.
A substantial portion of Penn's practice focuses on representing landlords and tenants in preparing and negotiating leases for industrial, retail, office, and medical office properties. Currently, Penn represents landlords in the leasing of their portfolios totaling more than two and a half million square feet and spanning more than two dozen buildings and shopping centers. 
Penn chairs the firm's attorney recruiting committee and serves as its hiring partner.  He has lectured on a number of commercial real estate topics to both law students at The University of North Carolina School of Law and MBA students at The University of North Carolina Kenan-Flagler Business School.
Prior to joining the firm, Penn practiced in the Charlotte and Raleigh offices of a large international law firm and served as temporary law clerk to the Honorable G. Steven Agee, United States Court of Appeals for the Fourth Circuit.
Practice Areas
Real Estate Acquisitions & Dispositions
Real Estate Leasing
Real Estate Finance & Capital Markets
Real Estate Investment & Development
Distressed Debt & Workouts
Honors & Awards
Business North Carolina, Legal Elite
• Real Estate (2019 – 2022)
• Young Guns (2019 – 2021)
North Carolina Super Lawyers
• Rising Stars, Real Estate (2021 – 2023)
 Premier Real Estate Lawyers
• Exclusive Featured Attorney Representing Raleigh 2022-2023
Admissions
Education
Washington and Lee University School of Law, J.D. (Martin P. Burks Scholar)
University of North Carolina at Chapel Hill, B.A. (with honors)
Representative Transactions
REIT in the $2.3 billion acquisition of a portfolio of 72 medical office buildings and development parcels over four serial closings
Buyers and sellers in the acquisition and disposition of more than two dozen student housing apartment complexes totaling more than $2.5 billion
REIT in the review of the real estate diligence, including leases, loan documents, title documents, and surveys, of the merging REIT related to the $5.7 billion merger of the two REITs
Managing member in the negotiation of a $750 million platform joint venture and the subsequent acquisition of six (6) apartment complexes over a two-year period.
Buyer in the acquisition of a $120 million student housing apartment complex
SFR sponsor in the acquisition and development of numerous residential communities totaling more than $250 million
Investment firm in the acquisition, sale, and financing of numerous apartment complexes totaling more than $200 million
Investment firm in the acquisition, sale, and development of numerous warehouse projects totaling more than $350 million
National financial institution in dozens of sales of a variety of asset types totaling more than $100 million of owned real property acquired through foreclosure
Landlords and tenants in commercial lease negotiations in millions of rentable square feet
REIT listed on the NYSE in the acquisition, sale, management, and leasing of real property
International convenience store chain in the acquisition, development, sale, and leasing of real property
Borrower in the $50 million refinancing of a portfolio of 7 shopping centers
Pension fund in the acquisition of a $75 million mixed-use development
Multi-family investment firm in the sale of a $47 million apartment complex
National homebuilders in large tract acquisitions and development of single family and townhome units
Retail developer in the sale of a $32 million shopping center
Buyer/borrower in the acquisition and financing of a $35 million apartment complex
Retail developer in the land acquisition, financing, development, and leasing of a shopping center
Multi-family investment firm in the acquisition of a $40 million apartment complex
Investment firm in the $12 million acquisition of a historic office building
Buyer/borrower in the $25 million acquisition of an apartment complex and related financing and joint venture
---
Longleaf Law Partners
Longleaf Law Partners is a boutique law firm focused on commercial real estate law. Our practice is comprised of experienced attorneys who made the decision to leave large, multi-specialty firms to be part of something different. Different in how we focus our expertise, work as a team, and engage with our clients.
As a highly skilled, collaborative and resourceful team, we are the opposite of a mega-firm trying to be all things to all clients. We concentrate our practice in commercial real estate law, and the size of our firm makes us nimble and efficient.
Our attorneys assist clients with all aspects of commercial real estate, including acquisitions and dispositions, title matters, land use, development, leasing, financing, restructuring and litigation. Each attorney on our team concentrates in one or more of these areas of practice, and we work collaboratively to best represent each client. Pooling our combined skills gives our clients a powerhouse commercial real estate legal team. They benefit from our extensive knowledge of the business and financial issues underlying their transactions, as well as our understanding of the market.
We are also different in the way we interact with clients. Our attorneys are real people, down-to-earth in how we communicate and connect. As a result, our clients have come to trust us and consider us part of their larger team.
We represent some heavy-hitters – entrepreneurial real estate developers and individual investors, financial institutions, nonprofits, private equity funds, and public and private companies owning and operating real estate. We often hear from these clients how much they appreciate our big firm experience and our small firm attitude.
Our attorneys draw on our decades of practical experience and strong industry relationships to provide thoughtful and principled commercial real estate legal services. At the same time, we practice client-centered problem-solving, exploring new ways to put deals together and making efficient use of technology and resources. We maintain a lean operational and organizational infrastructure to deliver the highest quality legal services – efficiently and at a reasonable cost.