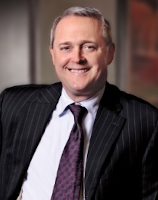 Jeffrey A Calk
Firm: Waller Lansden Dortch & Davis, LLP
Location: Nashville - TN
511 Union Street, Suite 2700




Nashville, TN 37219




USA
Tel : 615.850.8129

Fax : 615.244.6804

Email : jeff.calk@wallerlaw.com

Hospital systems value Jeff Calk's advice and counsel in keeping their business compliant during complex real estate transactions. His focus is on commercial and healthcare real estate, including acute care and behavioral hospitals, senior housing facilities, medical office buildings, and physician practices.
Healthcare regulatory laws and compliance are integral to real estate transactions between healthcare providers and referral sources; in the face of these complexities, Jeff works to make matters as simple as possible for the client, especially when navigating Stark Law and Anti-Kickback statute issues. An effective communicator, Jeff is solutions-oriented when advising clients on conducting their business.
Similarly, investors in healthcare real estate (whether medical office developers, healthcare REITS or physicians) seek Jeff's counsel in negotiating transactions with hospital systems.
On a day-to-day basis, Jeff handles a variety of matters, including:
Acquisition and development of medical office buildings
Transactions to monetize healthcare real estate assets
Needs of REITs in acquisitions, development projects, divestitures, financing transactions, and leasing transactions involving a wide range of healthcare facilities
Evidencing his depth of experience and knowledge in the healthcare real estate sector, Jeff serves as national leasing counsel for a publicly traded healthcare Real Estate Investment Trust (REIT). Furthermore, Jeff has been recognized by Chambers USA and Best Lawyers in the category of Real Estate Law. Jeff holds several leadership positions within the Health Law Section of the American Bar Association. With nearly 10,000 members from all segments of the healthcare industry across the United States, the Health Law Section is the voice of the national health law bar within the ABA.
---
Waller Lansden Dortch & Davis, LLP
Established in 1905, Waller is one of the oldest law firms in Tennessee. With more than 230 attorneys serving 10 core industries, we can quickly assemble a multi-dimensional team to address almost any matter. While we may begin by assisting with one issue, clients come back for help in other areas as well.
With one of the largest teams of real estate attorneys in the Southeast supporting a national real estate practice, Waller manages the demands and expectations of clients engaged in all aspects of real estate acquisition, development, leasing, financing and investing. We guide them through the complexity of high stake transactions with a steady, experienced and hands-on approach derived from decades of experience. While based in Nashville, our real estate group is national in reach, representing numerous clients across the country. We manage the corporate real estate portfolios of national healthcare companies, retailers, restaurant companies, multi-family investment funds, a wireless telecommunication provider, and others.
Real estate clients choose Waller for many reasons including our:
Practical insight and in-depth of experience into healthcare and real estate transactions including federal Stark Law issues; anti-kickback statutes and other regulatory hurdles faced by the healthcare industry
Depth of experience in efficiently managing large scale real estate portfolios and projects
Managing vast acquisition, disposition and leasing projects
Innovative approach and success in crafting client specific alternative fee arrangements
Keen awareness of economic factors influencing local, regional, national real estate markets
Cutting-edge experience with the most relevant development, leasing and incentive issues
Deep relationships with real estate professionals across the region and the country enabling us to efficiently manage and deal with the most complex projects and issues
Reputation for creative in-depth management of the most complex and multifaceted development and investment projects