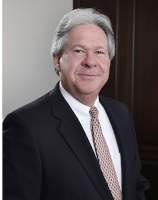 Michael A. Morris
Firm: Blasingame, Burch, Garrard & Ashley, P.C.
Location: Athens - GA
440 College Avenue




Suite 320




Athens, GA 30601
Tel : (706) 707-3497

Fax : N/A

Email : Mmorris@bbga.com

Athens real estate attorney Michael A. Morris has nearly 40 years of legal experience, more than half of which he has spent with Blasingame, Burch, Garrard and Ashley, P.C. A native of Athens, Georgia, Mike attended public schools as a child, graduating from Athens High School in 1969. Afterward, he went on to earn his Bachelor of Science in Education from the University of Georgia.
When Mike began practicing law in 1979, he was hired as a member of the litigation team at his first firm. After about six months, the head of the firm's real estate department resigned, and Mike was the only person in the firm who knew how to search a title, so he agreed to become the firm's real estate lawyer. He has been practicing real estate law for the past 38 years. In 1989, he joined Blasingame, Burch, Garrard and Ashley, P.C. to head its newly-created real estate department.
He graduated with honors and was named the outstanding male graduate in the UGA Physical Education Program in 1973. After obtaining his B.S., Mike earned his Master's Degree in Education from UGA, graduating cum laude in 1974, then attended the University of Georgia Law School where he graduated with honors with his J.D. in 1979.
He is also a past member of the Board of Directors of the Salvation Army (2012-2015), a past member of the Athens-Clarke County Industrial Development Authority (2014), a past member of the Mayor's Economic Development Task Force for Athens-Clarke County (2015), past member of the Athens-Clarke County Environmental Buffer Committee (2016), and a past member of the Unification Commission for Athens-Clarke County (1990). Mike has also been active with Athens West Rotary Club, serving as a past member and officer from 1981-1983, and is a past chairman of the American Heart Association Giving Campaign.
---
Blasingame, Burch, Garrard & Ashley, P.C.
Extraordinary Legal Service from a Dedicated Team
With a solid foundation in the local community, our firm has established itself as a formidable regional presence, crafting a state-wide reputation for our outstanding representation of both businesses and individuals. Our skilled team of Athens personal injury attorneys relies on long-standing relationships with the local bar and courts, along with a dedication to innovation and aggressive advocacy, in order to provide every client with the skilled legal assistance they need. We have litigated cases, handled legal business matters, and assisted with real estate transactions throughout the Southeast. We regularly associate with out-of-state firms to provide assistance in local transactions and offer sound legal counsel for pending litigation. Whether you are dealing with a personal injury, legal business matter, real estate issue, or need assistance with tax and estate planning, our firm is here to help.