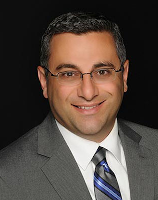 Nicolas AbouAssaly
Firm: Simmons Perrine Moyer Bergman PLC
Location: Cedar Rapids - IA
115 3rd St SE




Cedar Rapids, IA 52401




USA
Tel : (319) 896-4003

Fax : (319) 366-1917

Email : wscheer@spmblaw.com

Nicolas AbouAssaly is a real estate attorney with a focus on large real estate transactions, real estate tax protests and corporate and business transactions. Mr. AbouAssaly represents real estate owners and developers, builders, landlords, tenants, farmers, school districts and lenders in real estate transactions, including the most complex. Prior to joining the firm in 1997, Mr. AbouAssaly was an in-house attorney with Exxon Corporation in Houston, Texas. Mr. AbouAssaly is passionate about community support and is the current Mayor for the City of Marion, Iowa.
Mr. AbouAssaly represents clients of all sizes in connection with the purchase, sale, leasing and development of commercial and residential real estate. His practice includes preparation of agreements, handling title matters, representation of clients in connection with zoning, platting and land use matters and challenging real estate valuations for tax assessment purposes.
Mr. AbouAssaly has represented local and national clients in challenging real estate valuations for tax assessment purposes for commercial and industrial facilities throughout the State of Iowa, including appeals of board of review decisions to the Iowa District Court. His work on behalf of such clients has often resulted in significant reductions in assessed values of real estate and, consequently, significant savings in real estate tax liabilities.
Professional Honors
Included in the Best Lawyers® "Lawyer of the Year" list for Cedar Rapids, 2019
Land Use and Zoning Law
Included in the Best Lawyers in America® list, 2020
Land Use and Zoning Law, Real Estate Law
Ranked in Chambers USA, 2015-2019
Real Estate
AV Rating by Martindale-Hubbell®
Included in Great Plains Super Lawyers list, 2012-2019
---
Simmons Perrine Moyer Bergman PLC
The real estate attorneys at Simmons Perrine Moyer Bergman PLC have a reputation for successfully planning and implementing some of the state's most sophisticated real estate development projects, transactions and financing facilities.
We have particular experience serving commercial and agricultural real estate clients in the following areas:
Structuring development entities and negotiating development agreements
Purchase and sale transactions
Negotiating financing facilities
Structuring tax-advantaged and other publicly-assisted real estate developments
Resolving disputes amongst co-owners of real estate
Zoning and platting issues, leases, title claims, easements, etc.
Regulation of real estate brokers
Real estate litigation and property tax assessment disputes
Our experienced attorneys are equipped to handle all of your real estate needs. We care about our clients and provide personal attention to every matter.