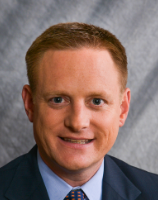 Aaron J Dixon
Firm: Ice Miller LLP
Location: Indianapolis - IN
One American Square Suite 2900




Indianapolis, IN 46282-0200




USA
Tel : 317-236-2206

Fax : 317-592-4851

Email : aaron.dixon@icemiller.com

Aaron Dixon is a partner in Ice Miller's Indianapolis office. Dixon's primary practice concentration is in real estate law. He assists clients in all areas of commercial real estate, including acquisitions and dispositions, finance, development, leasing, land use and zoning, entity structuring, and joint ventures.
Aaron has extensive experience representing clients in the purchase and sale of various types of real estate assets, including multi-tenant office properties, single-tenant office properties, multi family properties, hotels and mixed use properties. He has represented clients in purchase and sale transactions in Central Indiana and throughout the U.S.
He also has significant experience in structuring various forms of real estate transactions, including sale/leaseback transactions, joint ventures and condominium projects. Dixon regularly works with clients on construction and permanent mortgage financings, conduit financings, mezzanine financings and private placements.
Aaron regularly works on behalf of landlords and tenants in negotiating office leases, retail leases and restaurant leases. His practice also includes representing clients on land use and zoning matters.
Aaron is a native of Clinton, Iowa. He received his Bachelor of Arts in political science from the University of Iowa in 1996. In 1999, Aaron earned his juris doctor from the University of Iowa – College of Law, where he graduated with high honors.
He is licensed to practice in the state of Indiana.
---
CE MILLER STRATEGIES LLC
Ice Miller is a full service law firm dedicated to helping our clients stay ahead of a changing world. With over 340 legal professionals in seven offices, we advise clients on all aspects of complex legal issues across more than 20 practice areas. Our clients include emerging growth companies, FORTUNE 500 corporations, municipal entities and nonprofits.
Ice Miller's real estate attorneys act as "legal architects," putting to use all of the tools in today's regulated business environment to creatively pursue our client's goals.
We represent developers, landlords, financial institutions and others who regularly engage in real estate transactions, as well as clients who only occasionally need our services to lease, construct, buy or sell facilities.
Our experience includes Indiana-based clients, clients from across the United States and foreign clients with real estate activities in many states. We work to bring transactions to closing as quickly as possible, while counseling our clients throughout the often complex processes and procedures.
Ice Miller has extensive experience in all types of real estate financings, including traditional mortgage loans, mezzanine debt, lower floaters, equity placements and syndications.
Ice Miller attorneys have represented a variety of clients in a wide variety of litigation relating to real estate issues.
Landlord/tenant lease issues have included commercial, industrial, commercial and Section 8 entities. Foreclosures and, as appropriate, the appointment of receivers, have involved developments ranging from apartment complexes to commercial facilities. Ice Miller attorneys have also represented either property owners or governmental entities in a number of eminent domain actions. Drawing on Ice Miller attorneys with litigation experience and those with transactional experience allows the Firm to provide effective representation for our clients with real estate litigation needs.