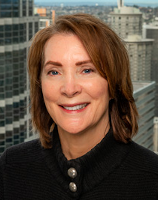 Beth A Clark
Firm: Stoel Rives LLP
Location: Seattle - WA
600 University Street, Suite 3600




Seattle, WA 98101




USA
Tel : 206.386.7625

Fax : 206.386.7500

Email : beth.clark@stoel.com

Beth Clark brings more than 30 years of experience to providing counsel to her real estate and transportation-related clients in all aspects of property acquisitions, entitlement, development and disposition. Beth is involved in property acquisitions, leasing, dispositions, intermodal and logistics center development, including infrastructure development and management for major public and private developments.
Beth has been lead Washington real estate counsel to a Class 1 railroad and in that capacity has worked on corridor acquisitions, dispositions, track management issues, franchise agreements and intermodal facilities development.
The transportation projects Beth has worked on include the Port of Vancouver bypass project funded by WSDOT and designed to speed rail movements along this vital north/south rail corridor. She is well versed in the unique title issues associated with historic rail properties, freight/passenger issues and the challenges of multiple track users. Beth was also lead real estate counsel for the Seattle Monorail Project with responsibility for all aspects of the negotiation and acquisition (and later disposition) of fee and easement interests for the right-of-way corridor.
Beth is listed in The Best Lawyers in America and was recently described by a source in the highly regarded Chambers USA legal directory as "recognized for her extensive experience with real estate developments, acquisitions and disposals," with another noting "she has a great reputation as a real estate attorney."
Beth's strong background in land use and permitting contributes to her abilities to work with local and national real estate clients in all phases of property due diligence, entitlements, acquisition and disposition. She enjoys being part of comprehensive and pragmatic solutions to challenging and complex projects.
---
Stoel Rives LLP
Stoel Rives' Real Estate Finance attorneys offer broad national experience representing various lenders and borrowers across the spectrum of asset types. Our team will partner with you in strategic decision making about financing mechanisms to achieve your business goals. Our clients rely on our expertise in handling complicated finance transactions and getting to closing on time and within budget.
Demographic, technological and global trends are shaping the direction of real estate investment and development in the U.S. Urbanization is driving demand for high-end and affordable multi-family housing in large cities. E-commerce is causing reimagination of retail physical space. And the positive fundamentals of the U.S. economy are attracting international investment in commercial real estate.
We represent owners, developers, investors, lenders and business users in the acquisition, development, financing, sale and leasing of real estate. Our clients' projects are industrial and manufacturing facilities, renewable energy developments, condominium high rises, office buildings, natural resources infrastructure, agricultural businesses and recreational destinations.