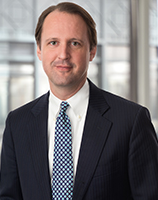 Jill S. Schloff
Firm: Council, Baradel, Kosmerl & Nolan, P.A.
Location: Annapolis - MD
125 West Street, Fourth Floor




Annapolis, MD 21401




USA
Tel : 410-268-6600

Fax : 410-269-8409

Email : Rife@CouncilBaradel.com

Britt G. Rife's practice is focused on real estate transactions, commercial financing, business organization and commercial transactions.
Mr. Rife negotiates and drafts all types of commercial real estate instruments, including retail, office and industrial leases, loan documents, development agreements, purchase and sale contracts, complex easement agreements and restrictive covenants.
While Mr. Rife has years of experience representing commercial real estate developers in large transactions, he greatly enjoys assisting smaller, local business with their entity formation, governance, business transaction and leasing needs. He is actively engaged in business contract negotiation, including sales, investment, franchise and management agreements, as well as business planning.
Mr. Rife devotes a great deal of his practice to the firm's representation of lending institutions in documenting, negotiating and closing commercial loans.
Represented borrowers in more than 20 large ($10 Million minimum loan principal) and syndicated financing transactions.
Acted as lead lender counsel in commercial real estate and C&I financing.
Acted as counsel to both management and investor parties in numerous business ventures.
Represented landlords in dozens of grocery store and big box anchor leases.
Represented landlords and tenants in pad leases for nationally recognized restaurants, automotive parts dealers, discount stores, pharmacies and banks.
Represented retail and office tenants in shopping center and office building leases nationwide.
Whats Up? Annapolis Magazine Leading Lawyer in Real Estate Law 2016-2019.
---
Council, Baradel, Kosmerl & Nolan, P.A.
Council Baradel is one of the region's premier law firms and prides itself on the Energy, Depth and Experience it brings to the representation of its many clients. With established roots in Annapolis and Anne Arundel County, our attorneys are active leaders, counselors, and participants in an extensive number of bar associations, business groups and civic organizations that make a difference in the city, county and state.
Depth of the firm is obvious in the wide variety of services and areas of concentration offered by our attorneys. These areas include administrative, zoning and land use, family law and divorce, business formation, defense of criminal and traffic offenses, personal injury, insurance defense, business and contract disputes, as well as municipal law, estates and trusts, employer-employee matters, real property and title litigation. There are few areas of the law affecting your life or your business in which our array of attorneys can't assist you or steer you in the right direction.
Experience is one of the firm's proven strengths, boasting a number of highly peer-rated and highly skilled attorneys who have been in the practice of law for more than thirty or forty years, who have confronted and guided clients through nearly every kind of legal situation imaginable, and who lend their years of experience directly to our clients, and to the younger attorneys and staff members to the benefit of our clients.