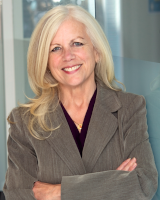 Julie Pruitt Barry
Firm: PRINCE LOBEL TYE LLP.
Location: Boston - MA
One International Place Suite 3700




Boston, MA 02110




USA
Tel : 617-456-8090

Fax : 417-456-8100

Email : jbarry@princelobel.com

Julie Pruitt Barry is a trial and appellate attorney with more than 25 years of experience in state and federal courts including the Massachusetts Appeals Court, Superior Courts, Land Court, Probate Court, and the U.S. District Court, and First Circuit Court of Appeals.  She represents developers, commercial and residential property owners, businesses, and individuals.
Julie's practice focuses on commercial and residential real estate and land use litigation and permitting, including zoning and planning, affordable housing, cannabis, renewable energy, historic districts, title and easements, construction, and insurance coverage.  She also represents clients in state and federal environmental administrative matters including wetlands and tidelands, and hazardous waste under both state and federal Superfund Acts, MA Chapter 21E, and CERCLA, as well as in mediation and arbitration proceedings.
Julie successfully defended a commercial and residential property owner against an abutter's appeals of a groundwater conditional use permit granted by the Boston Zoning Board of Appeals both at trial in Suffolk Superior Court and on appeal (Perry v. Boston ZBA, 100 Mass.App.Ct. 138 (2021), as well as a Certificate of Appropriateness granted by the Back Bay Architectural Commission at trial in Suffolk Superior Court, which was not appealed, for a highly visible mixed use residential, retail and office building on Newbury Street in Boston.
Julie successfully represented a developer of affordable housing against an anti-SLAPP claim in the Massachusetts Appeals Court, which lead to an opinion deemed by MA Lawyers Weekly to be one of the Most Important Opinions of 2013 (Coalition to Preserve the Belmont Uplands et al. v. Commissioner of the Department of Environmental Protection, et al., 84 Mass. App. Ct. 1118; unpublished).
Julie obtained a favorable decision for a client engineering firm from the Massachusetts Appeals Court, which found that a professional engineering firm employed by a town to review the development of subdivisions in the town does not owe a duty of care to a developer or its contractor absent a showing that the developer reasonably relied on the peer reviewer's advice and the peer reviewer was aware of the reliance. (Meridian at Windchime, Inc. v. Earth Tech, Inc., 81 Mass. App. Ct. 128, 2012).
Honors & Awards
June 28, 2021:  Named a "Go To Commercial Real Estate Lawyer" by Massachusetts Lawyers Weekly
2020 – present:  Recognized by "Best Lawyers in America®" in the fields of Environmental Law and Real Estate Law
2017-2021: Named a Massachusetts "Super Lawyer"
2015 Top Women of Law Honoree, Massachusetts Lawyers Weekly
Publications
July 17, 2020, Prince Lobel Client Alert, "Energy and Environmental Standards for Cannabis Businesses Now in Effect"
January 2020, REBAnews, "Asbestos Exposure and Clean Air Initiatives"
Prince Lobel Client Alert, "New Massachusetts Report Issued on Asbestos Exposure and Public Protection Initiatives," November 26, 2019
Education
Suffolk University Law School, J.D., 1992
University of South Florida, B.A., 1988
Bar Admissions
Massachusetts
United States District Court for the District of Massachusetts
United States Court of Appeals for the First Circuit
United States Tax Court
Memberships & Affiliations
Real Estate Bar Association for Massachusetts, President-elect; Executive Committee; Board of Directors
Real Estate Bar Association, Co-chair Environmental Law Committee and Strategic Communications Section
Environmental Business Council of New England, Energy Resources Committee Leadership Team
CREW Boston
New England Women in Energy and the Environment (NEWIEE)
Women's Bar Association
Boston Bar Association
---
PRINCE LOBEL TYE LLP.
Prince Lobel attorneys provide you innovative, diverse real estate counsel in wide-ranging areas, including commercial real estate development, acquisition, ownership, financing, leasing, and permitting.  From due diligence reviews and acquisitions, to leasing, refinancing and disposition, our team offers first-rate, cost-effective solutions.
Our clients include national developers, investors, and commercial, retail, and residential property owners,  and landlords and tenants, as well as owners and developers of office buildings, shopping centers, hotels, golf course developments, condominium developments and multi-family, 55+, and affordable housing projects.
Leasing
We represent landlords and tenants in negotiations for retail, office, and industrial leases. We are especially active in working with owner/landlords to develop cost-effective, portfolio-wide leasing programs.  We also have extensive experience representing commercial tenants of every size, including both anchor and in-line retail tenants.
Sales and Acquisitions
We represent commercial sellers and buyers of suburban or downtown office buildings, shopping centers, hotels, restaurants, retail, and other commercial property.  In cooperation with our Tax Group, we represent our clients in tax-deferred transactions under Section 1031 of the Internal Revenue Code, including transactions in which multiple properties are exchanged and financed.
Entity Formation and Financing
We represent borrowers in construction loans, conduit loans, and insurance company and commercial bank financing with regional and local banks as well as nationally recognized lenders, including large commercial loans exceeding $100 million.  We collaborate with the firm's corporate and tax attorneys to negotiate joint venture agreements and agreements with equity investors, as well as to structure limited liability companies in the most efficient manner possible.
Zoning and Permitting
Prince Lobel understands the complex and rapidly changing regulatory and permitting landscape and has the expertise to successfully navigate the web of applicable federal, state, and local regulations.  We perform regulatory analysis, draft and prepare all necessary permitting applications, and provide representation at public and administrative hearings.  We represent our clients on appeal in any litigation or administrative proceeding.  Our experience also encompasses a wide range of environmental issues, including wetlands, renewable energy, and hazardous waste regulation and remediation.
SERVICES
We have extensive experience with a full range of commercial real estate services including:
Purchase and sale of property
Financing
Leasing
Zoning and permitting, including environmental,  renewable energy, and cannabis
Due diligence
Condominium law
Title issues, including adverse possession and easements
Litigation
Preparation of closing documents
Liens
Subdivisions
Construction, architecture, and accessibility
Mortgage foreclosures
Investments