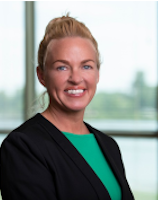 Patricia Voth Blankenship
Firm: FOULSTON SIEFKIN LLP
Location: Wichita - KS
WICHITA 1551 N. Waterfront Parkway




Suite 100 Wichita, KS 67206-4466




USA
Tel : 316.291.9767

Fax : 866.347.3139

Email : pvoth@foulston.com

Trish Voth heads up Foulston's wind and solar energy practice, and is also a leader in the firm's real estate practice, applying her 20 years of experience and commitment to the real estate, renewable energy, and legal industries.
To learn more about Trish's capabilities and clients served, please visit our Wind and Solar Energy Practice and Real Estate Practice; or review her below relevant experience, professional information, and presentations.
Relevant Experience
Clients with commercial real estate interests benefit from Trish's extensive track record supporting clients in mergers and acquisitions both as sellers and acquirers, as developers of commercial sites and larger mixed-use projects, representing both landlords and tenants in commercial leasing, and assisting with commercial property financing and local counsel opinions. Trish draws from her involvement with real estate issues, practices and trends in many sectors: hospitality, medical, restaurant, office, industrial, manufacturing, retail, agricultural and recreational. She also supports clients in matters involving a wide range of project real estate documents, plus complimentary law practice areas, including: oil and gas, environmental, construction, eviction, creditors' rights, bankruptcy, statutory liens, water law, health care, like-kind and tax-deferred exchanges, zoning and land use, eminent domain, property tax exemption, and corporate/entity agricultural land ownership restrictions. Additionally, Trish's wind energy practice spans work as developer's counsel, and other times as landowner's counsel, so that her work for clients is built on experience of issues from both angles. Wind energy projects are large-scale sophisticated real estate developments, involving many project real estate documents, plus permitting, regulatory, tax, power transmission, power sale, and financing aspects.
Mergers and Acquisitions – Real Estate
Real estate member of firm's transaction team representing a dairy operation in the asset purchase of large feedlot and agriculture enterprise in Western Kansas. The firm's role included negotiation and preparation of letters of intent, asset purchase and related transaction documents, ERISA and employee benefit matters, business and tax issues, review and negotiation of land title and permitting issues, water rights and environmental issues and a broad range of general corporate matters.
Real estate member of firm's transaction team representing heavy equipment dealer's two separate successful acquisitions of other large franchise equipment dealer's operations and territory. The first acquisition doubled its territory from 49 to 99 Kansas counties; the second added 45 more counties in Kansas and Missouri. The real estate portion of the transactions included 16 new operations sites, the real estate diligence and related financing and third party agreements for each, and negotiation of the real estate related portions of the acquisition agreements.
Real estate member of firm's transaction team that successfully represented the seller of a 20-hotel portfolio of assets located in 11 states to Hyatt Hotels Corporation. Legal real estate work included negotiation of real estate terms of sale agreement, responding to real estate diligence inquiries and issues, and obtaining lessor, owners associations, governmental and other third-party required consents.
Represented seller in successful sale of multi-state, multi-location convenience store operator for 50 business sites. Real estate issues included negotiation of real estate terms of sale agreement, creatively address and solve title objections, leasing, estoppels, third party consents, licenses, lot-splits, new easements, and zoning and code compliance.
Real estate member of firm's transaction team that successfully represented the seller of a 99-bed hospital operations to an HCA subsidiary, including negotiating real estate terms of sale agreement, a long-term lease, related re-financing terms and documentation for the site, shared building use and services terms with other occupant, plus assisting with real estate diligence items.
---
FOULSTON SIEFKIN LLP
We are one of a select group of Midwest law firms recognized for such a broad spectrum of real estate expertise. Our philosophy of superior client service and our recognized expertise earned our real estate practice and our attorneys high marks for "outstanding" work from publications including Best Lawyers of America, Missouri/Kansas SuperLawyers, Chambers USA, Global Law Experts, and US News & World News Best Law Firms. Our real estate attorneys include members of the American College of Real Estate Lawyers and the American College of Environmental Lawyers.
Our Practice Focus Includes:
Real Estate Transactions
Real Estate Development, Planning and Land Use
Real Estate Finance and Tax
Real Estate Construction, Engineering and Environmental
Real Estate Natural Resources