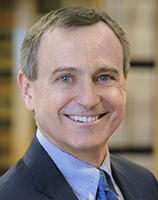 Robert Burns
Firm: Parsons Behle & Latimer
Location: Salt Lake City - UT
201 South Main Street, Suite 1800




Salt Lake City, Utah 84111




USA
Tel : 208.562.4894

Fax : 801.536.6111

Email : rburns@parsonsbehle.com

Robert B. Burns is a shareholder in the firm's Boise office and leads the firm's real estate practice in Idaho. His practice includes acquisitions and sales, commercial real estate lending, development, leasing, and conflicts over entitlement issues and commercial and residential property interests, including challenging property taxes and prosecuting and defending mechanic liens.
Mr. Burns has also represented business clients in a wide range of general business activities ranging from the formation of business entities to litigating their dissolution – and most everything in between. In recent years approximately one-half of Mr. Burns' practice has been devoted to transactional and related work and one-half to litigation and related work.
Mr. Burns was selected by his peers for inclusion in Best Lawyers in America 2016 for "Lawyer of the Year" in Boise for Real Estate.
Prior to joining Parsons Behle & Latimer, Mr. Burns was an attorney at Moffatt Thomas Barrett Rock & Fields in Boise, Idaho. Before joining that firm, he was the president of the Los Angeles/Ventura Division of The Baldwin Company, then one of the largest home builders in California. As the general manager of one of the three operating divisions of this Southern California real estate company, Mr. Burns was responsible for the acquisition and development of five master-planned communities comprising approximately 6,500 residential units, together with ancillary commercial uses. Before joining The Baldwin Company in 1988, Mr. Burns developed several commercial projects in California and Idaho.
Mr. Burns began practicing law in Houston, Texas, with Fulbright & Jaworski, an international law firm. Prior to attending law school, he practiced as a certified public accountant with Arthur Andersen & Co. in its Salt Lake City office.
Academic
Boise State University (B.B.A., 1975)
Magna cum laude
Stanford Law School (J.D., 1982)
Profesional
Best Lawyers in America – Real Estate Law and Litigation
Named 2016 Best Lawyers in America "Lawyer of the Year" in Boise for Real Estate
Chambers USA – Real Estate, Idaho
Martindale-Hubbell AV Preeminent Rating
Mountain States Super Lawyers – Real Estate Law
---
Parsons Behle & Latimer
The real estate attorneys at Parsons Behle & Latimer have the experience and knowledge needed to help clients with owning, acquiring, developing, selling, financing, managing and leasing their real property interests. Our clients range from individuals to multi-national, national, and local companies and organizations. We have an extensive legal and practical background in helping our clients to structure, assess, and document all facets of their real estate and financing transactions. Additionally, we have a broad range of experience in representing owners, investors, developers and users of retail, industrial, commercial, resort, hotel, office and multi-family properties.
Parsons Behle & Latimer's Real Estate Litigation practice group has significant experience litigating all of the many issues that affect real estate and its development. Our Real Estate Litigation attorneys have significant experience litigating real estate purchase contracts, mechanic's liens, foreclosures, boundary disputes, construction disputes, HOA litigation, land use and zoning, easements, wrongful liens, condemnations (takings claims and inverse condemnation claims), partitions, fraudulent transfers, lender liability claims, and landlord/tenant disputes. Our attorneys have successfully handled these matters in state and federal courts at both the trial and appellate level.
Parsons' Real Estate Litigation practice group recognizes that a lawsuit, and the reasons for it, can be a serious impediment to the success of a project. We have the resources necessary to resolve such disputes in a prompt and effective manner and the knowledge and creativity required to find unique solutions to our clients' problems.