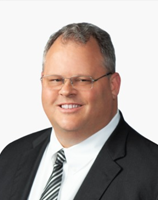 Steven L. Kennedy
Firm: Seyfarth Shaw LLP
Location: Atlanta - GA
1075 Peachtree Street, NE Suite 2500




Atlanta, GA 30309-3962




USA
Tel : (404) 885-6735

Fax : (404) 892-7056

Email : skennedy@seyfarth.com

Steve is a committed and responsive deal lawyer who provides practical counsel to commercial real estate clients across the US.
Steve helps his real estate clients navigate challenges from a changing economic and financial regulatory environment and its impact on lenders and borrowers alike. He is a developer's counsel, who often acts as "quarterback" of a multidisciplinary Seyfarth team. While Steve is co-head of the Real Estate Development practice group, he taps into various other practice groups, drawing on the strengths of his team's construction, corporate (joint venture), finance, leasing, and environmental experience to advise real estate clients in all development-related matters.
Steve balances his development experience with complementary practice representing various bank and other institutional lenders in real estate lending (construction, bridge, permanent, and mezzanine), supplemented with experience in real estate joint venture and other corporate structures. He also possesses other associated real estate skills, such as leasing, construction, zoning, and environmental, to provide a full range of transactional counseling to clients in these areas.
Steve has worked on some of the most exciting real estate projects around the country. He has counseled developer, lender, and joint-venture partners, and other equity investors, as well as corporate real estate users. Steve has served both as lead counsel for such transactions, and as local counsel to out-of-state lead counsel who require expert local assistance. These transactions include in-town high-rise office, residential, mixed-use, and new hospital developments, as well as hotel, retail, and hospitality industry projects. He has also worked on many apartment project developments, portfolio investment transactions, adaptive reuse projects for urban revitalization, and other bread-and-butter conventional commercial real estate projects.
---
Seyfarth Shaw LLP
Our high-caliber legal representation and advanced delivery capabilities allow us to take on our clients' unique challenges and opportunities―no matter the scale or complexity. Whether navigating complex litigation, negotiating transformational deals, or advising on cross-border projects, our attorneys achieve exceptional legal outcomes. Our drive for excellence leads us to seek out better ways to work with our clients and each other. We have been first-to-market on many legal service delivery innovations―and we continue to break new ground with our clients every day. This long history of excellence and innovation has created a culture with a sense of purpose and belonging for all. In turn, our culture drives our commitment to the growth of our clients, the diversity of our people, and the resilience of our workforce.
With more than 900 lawyers across 16 offices, Seyfarth Shaw LLP provides advisory, litigation, and transactional legal services to clients worldwide.