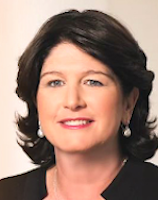 Suzanne Amaducci-Adams
Firm: Bilzin Sumberg
Location: Miami - FL
1450 Brickell Avenue, 23rd Floor




Miami, Florida 33131-3456




USA
Tel : 305-350-2370

Fax : 305-374-7593

Email : samaducci@bilzin.com

Suzanne is the Firm's Real Estate Practice Group Leader. As the leader of one of the largest real estate practices in Florida, Suzanne knows that the "old playbook"doesn't work anymore. Her experience has led her to the creation of tailored, yet practical, legal solutionsthat adjust to the cycles of the market and the unique aspects of each transaction.
Because of various regulations and changes within the real estate industry, credit markets are getting tighter. I encourage my clients to think about financing early. If it can be secured at a great interest rate, or they are attempting to secure a large sum, I encourage my clients to jump at the opportunity, even if they don't use the funds right away.
Suzanne Amaducci-Adams, leader of the Real Estate Practice Group at Bilzin Sumberg, frequently catches
people by surprise when they hear that her group has closed on more than $2 billion in commercial real
estate loans so far in 2016 despite what many describe as a Miami market that's cooling down.
The transactions involved national players such as Ashford Hospitality Trust, CNL Hotels, Innkeepers REIT, Equity
Inns REIT, Africa Israel and Whitehall Funding. The large multi-state hotel portfolio transactions and
restructurings included the Red Roof Inn portfolio, Morgan Stanley Real Estate Funds (MSREF) 3-pack
portfolio, Innkeepers portfolio and the Trinity portfolio.
Awards and Honors
Band 2, Chambers USA, Real Estate, 2007 – present
BisNow, Commercial Real Estate Women of Influence Honoree, 2019
Florida Trend, Must Know Contact in the Real Estate Industry, 2016
Martindale-Hubbell, AV® Peer Review Rated, 2013 Top Rated LawyerTM, Banking & Finance Law
National Real Estate Investor, Outstanding Women in Real Estate Award, 2010
Real Estate Forum, Women of Influence, 2014, 2019
South Florida Business Journal, Power Leaders in Real Estate, 2015 to 2016
South Florida Business Journal, Power Leaders in Commercial Real Estate, 2014
South Florida Business Journal, Heavy Hitters in Commercial Real Estate, 2011, 2013
South Florida Legal Guide, Top Lawyers, 2006 – present
The Best Lawyers in America, Real Estate Law, 2009 – present
---
Bilzin Sumberg Baena Price & Axelrod LLP
Bilzin Sumberg's Real Estate attorneys are trusted advisors to a distinguished roster of clients, from Fortune 500 companies to foreign and domestic businesses to entrepreneurs and family offices. We advise in every sector of the real estate industry and every stage of the real estate cycle. Our Practice Group has been recognized for two consecutive years as a "Real Estate Group of the Year" by leading legal news publication Law360, an honor received by a select group of firms nationwide that stand out for preeminent work in the sector. We have won numerous South Florida "Deal of the Year" awards from various publications.
Our lawyers work with clients in the purchase and sale of commercial real estate, mixed-use and transit oriented development, acquisition, construction and mezzanine financing projects, commercial leasing, and real estate-related loan sales and purchases. We continue to build on our experience and have served as counsel in the acquisition or disposition of numerous real estate and debt portfolios, including several transactions each valued in excess of $1 billion.
Our long history of engagement in Florida's volatile real estate market helps us devise creative and practical solutions that inspire our clients' confidence. We are a go-to law firm for foreign and domestic owners, developers, investors, REITS, private equity funds, lenders, and servicers. Our Real Estate Group has exceptional flexibility in mobilizing multi-disciplinary resources across the Firm on behalf of our clients to successfully negotiate multi-faceted transactions involving many areas of law.